How dental implants from your Centralia dentists can help your smile
You may be thinking about dental implants, to give you back a full, beautiful smile, but you're not sure how they work. Dental implants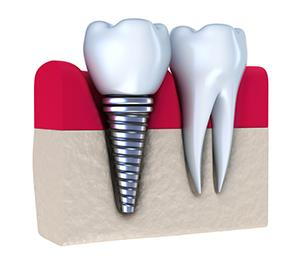 are the state-of-the-art method to replace missing teeth, providing benefits that dental bridgework and dental appliances can't match. Dr. Steven Ash and Dr. Brian Roberts of Ash & Roberts, DDS in Centralia, Washington want to share their knowledge of how a dental implant works and why implants may be the right choice for you.
A dental implant procedure begins with placing the implant in your jawbone. Your body will begin to create more bone to fuse with the dental implant. During the healing period, your dental implant will become embedded in bone, locking it securely in place.
Your dental implant is made of titanium, a unique material that is strong but is also gentle to soft tissue and bone. Your body won't reject the implant. In fact, dental implants boast the highest success rate of any surgical implant, over 95 percent!
After your dental implant is secure and stable, your dentists in Centralia will cap the dental implant with a beautiful crown, making your dental implant virtually indistinguishable from your natural teeth.
The high success rate is only one benefit of dental implants. When you choose dental implants, you will also experience:
Unsurpassed beauty, because your dental implants blend perfectly into your smile
Unrivaled convenience, because you can clean your dental implants by brushing and flossing them, just like your natural teeth
Increased confidence, because you know your implants won't move around when you eat or speak, the way partials and dentures sometimes do
They are also a conservative treatment because unlike bridgework, your dentist doesn't have to prepare the surrounding teeth. Implants work very well for most people, and chances are they will work for you too. It's important to tell your dentist if you smoke or have health issues, because it may affect the healing process of your implants.
If you are interested in dental implants and want to find out more about how they work, call Dr. Ash and Dr. Roberts of Ash & Roberts, DDS in Centralia, Washington. They are ready to help you discover the magic of dental implants, so call today!